The App
Discover the heart of music
Cadenza frees you to get to the heart of the music, try out your own expressive ideas, and reach a deeper understanding of musical possibilities.
Experience music the way it's meant to be: as a give-and-take conversation within a rich tapestry of harmonies, colors and lines.
Play with Cadenza and an orchestra plays along with you—following your every move so you can play with freedom and attention to music-making. Record yourself to listen to later and see how you improve over time.
Discover how to project your ideas so they're clear to other musicians, and so you can lead a performance with confidence.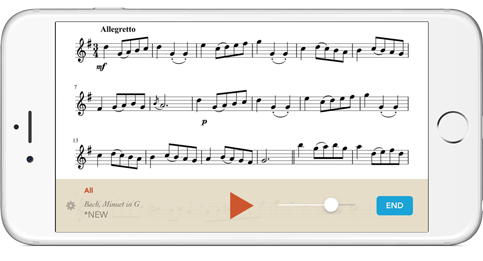 We put the "AI" in Tchaikovsky.
Cadenza harnesses the power of artificial intelligence (AI) to adjust real orchestral recordings to fit your playing. Just play your instrument while Cadenza listens to you, matches your tempo, and plays the orchestra part right along with you.
Cadenza also evolves with you. The more you train Cadenza, the more it will play like you do.
Pick up your instrument and play how you want—draw out that phrase or go for the exhilarating finish. Cadenza frees you to discover the heart of music.
Whether you're practicing for an audition or just playing for enjoyment, start up Cadenza and you'll have more fun with a music app than you ever thought possible!
Get Cadenza on iPhone and iPad.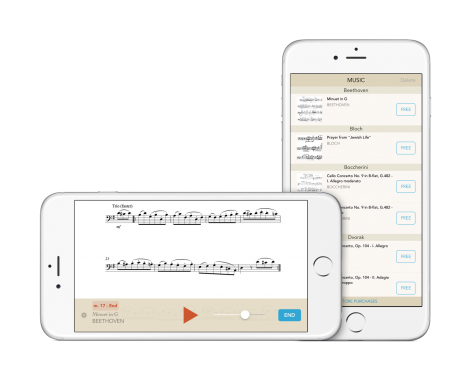 Train Cadenza to be even more amazingly accurate.
Cadenza acts just like a real orchestra. Built on cutting-edge machine learning algorithms, Cadenza listens to you play, analyzes your style, and adjusts the orchestra to match your tempo at every moment. (Unlike a real orchestra, however, Cadenza automatically turns your pages for you, too.)
We think you'll be amazed at how well Cadenza works right out of the box, but we know you'll really be astounded when you train Cadenza after it hears you play and it fits your playing even better the next time.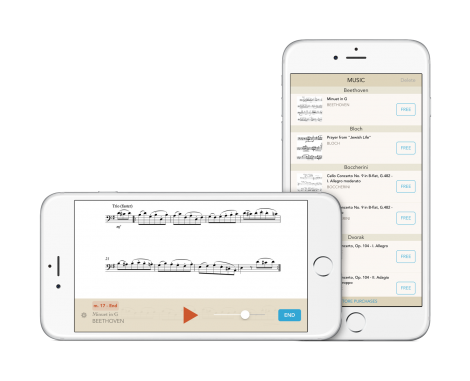 Choose from over 200 pieces of music.
Bach, Beethoven, Brahms, Mozart, Saint-Saëns, Schubert, Schumann, Tchaikovsky, Vivaldi – the Cadenza library includes a wide range of works from the greatest composers, from the beginner to the advanced level.
Cadenza is available for nine instruments: violin, viola, cello, flute, clarinet, oboe, bassoon, French horn, and trumpet.
There's music for serious practice, teaching, or simply for having fun.
Get Cadenza now and start playing!