Gumbo House
611 W 9th Ave
Anchorage, AK 99501
(907) 222-2930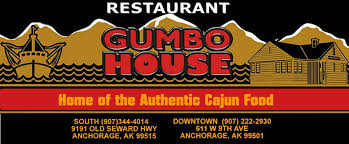 Hours
Mon

11:00 am

-

9:00 pm

Tue

11:00 am

-

9:00 pm

Wed

11:00 am

-

9:00 pm

Thu

11:00 am

-

9:00 pm

Fri

11:00 am

-

9:00 pm

Sat

11:00 am

-

9:00 pm

Sun

11:00 am

-

6:00 pm
Gumbo House South
Located in the strip mall just South of Sam's Club in Dimond, Gumbo House South offers a unique whimsical décor and chic environment. Very nice to hold meetings, events, and parties of up to 60 people, it offers lunch and dinner with the same delicious menu of Gumbo House Downtown
Gumbo House Downtown
Is conveniently located at the corner of 9th and F St. It is at walking distance of many businesses and government office in downtown Anchorage. Across from the popular 9th Avenue Strip, it is a small restaurant that can hold up to 20 people inside and another 30 in its patio overlooking the Chugach Mountains and the many events happening at the "strip."It is a place where you can stop by for lunch, dinner or for a casual snack and and a beer while talking a walk.
Catering, Banquets And Parties
Planinng an event or party? Gumbo house offerslunch, dinner, and snack choices in portionsaccording to your budget and available for private parties, weddings, events and special occasions. ... We can do business meetings, box lunches, holiday parties, Quinceañeras, weddings, and any other event you are having, you can trust Gumbo House. Our place or yours. We will be there for you.