Gumbo House
611 W 9th Ave
Anchorage, AK 99501
(907) 222-2930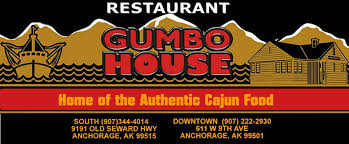 Hours
Mon

11:00 am

-

9:00 pm

Tue

11:00 am

-

9:00 pm

Wed

11:00 am

-

9:00 pm

Thu

11:00 am

-

9:00 pm

Fri

11:00 am

-

9:00 pm

Sat

11:00 am

-

9:00 pm

Sun

11:00 am

-

6:00 pm
Gumbo House South
Located in the strip mall just South of Sam's Club in Dimond, Gumbo House South offers a unique whimsical décor and chic environment. Very nice to hold meetings, events, and parties of up to 60 people, it offers lunch and dinner with the same delicious menu of Gumbo House Downtown
Gumbo House Downtown
Is conveniently located at the corner of 9th and F St. It is at walking distance of many businesses and government office in downtown Anchorage. Across from the popular 9th Avenue Strip, it is a small restaurant that can hold up to 20 people inside and another 30 in its patio overlooking the Chugach Mountains and the many events happening at the "strip."It is a place where you can stop by for lunch, dinner or for a casual snack and and a beer while talking a walk.
Catering, Banquets And Parties
Planinng an event or party? Gumbo house offerslunch, dinner, and snack choices in portionsaccording to your budget and available for private parties, weddings, events and special occasions. ... We can do business meetings, box lunches, holiday parties, Quinceañeras, weddings, and any other event you are having, you can trust Gumbo House. Our place or yours. We will be there for you.
Reviews:
This is a small little place with only a few tables. I was there on a Thursday night and business was slow. They had a great little band playing great old tunes.

I had the special which was half a calamari po boy, and a cup of shrimp gumbo. The po boy was great. The bread was fresh and the calamari was fried perfectly. The gumbo was flavorful and had a good amount of shrimp. It could have been more spicy for my taste but it was otherwise seasoned well.

I finished with a bread pudding and it was perfect. Not too heavy, not too sweet. It was a great finish to a great meal.

I'll be putting Gumbo house on my regular rotation.
Cute place, sweet staff, and decent grub. Today I met a friend here for lunch - she got the jambalaya and corn bread and I got the crab cakes.

I'd never actually had what I can only guess was deep fried crab cakes... the outer shell was similar to what you'd see on deep fried mushrooms or cheese sticks. The inside was good though - creamy with a heavy does of crab - and the sauce was zesty and delicious. I even enjoyed the side of corn - perfectly crunchy and seasoned. Overall though, I would have liked more traditional pan fried cakes.

The waiter (who may have also been an owner?) was very sweet and attentive. That, the convenient downtown location, plus the delicious jambalaya on my previous visit will likely bring me back again at some point.

Give it a go for some local flavor and to support this adorable local business!
I came down here yesterday for lunch with a friend while running errands around town. The Gumbo House is located in a small pink-colored cottage that formerly housed Cilantro's Mexican Restaurant years ago on W. 9th Ave between F and G St. across from the Delaney Park Strip in downtown. The dining interior is small and cozy with New Orleans and jazz memorabilia adorning the walls all around (my kind of scene being a jazz vinyl collector). If there is any place in America that I would have a blast posting reviews on, that would be the French Quarter in New Orleans. Some of the best restaurants in the country can be found along those famous streets. One of these days.... The person behind the counter who appears to be the manager greeted us warmly as we walked in and beckoned us to take any table that was open.
I already knew what I was craving and I didn't have to look long at the menu before deciding on what to order. I went with a bowl of traditional Jambalaya (chicken, Andouille sausage, and shrimp with white rice sprinkled with parmesan cheese). I also ordered a side of Corn Muffins which is available in plain or jalapeno. My friend thought that was a great choice and ordered the same. The corn muffin came out piping hot with some butter on the side as the jambalaya arrived shortly after. The thick stew was delicious with plenty of shredded chicken, shrimp, and flavorful sausage in a spicy broth. The steamed white rice made a great addition along with the parmesan cheese to make for a filling lunch. There were also several other menu items of note to try out on the next visit or picking up for co-workers during weekday lunch.
Ones that caught my eye were the signature Gumbo (traditional dark roux, Holy Trinity which is onions, bell peppers, and celery that are the base ingredients for the dish, Andouille sausage okra, and rice), Blackened Catfish served with red beans and rice....this will be my next order, the Oyster Po Boy, the Boiled Shrimp Remoulade Appetizer, Crab Cakes...(always looking out for these on a menu!), and the Bread Pudding with Kahlua sauce for dessert. There was a second location off of Old Seward in the Dimond area that closed a few months back. I asked the manager if they had plans to reopen elsewhere, but he said that remains up in the air for now until business starts picking up again. Copies of their menu are available in the restaurant as it looks like their website is no longer active. This is a nice addition for the downtown area where Cajun cuisine is scarce and limited to a couple of places.
Friendly ,Really Nice ,and Delicious Food! I had a great time eating here the prices were low for such great food. I would most definitely recommend this restaurant too others here in Anchorage, Alaska!
My husband and I live in a remote part of Alaska and expended considerable effort to dine at Gumbo House. Unfortunately, our meal was not worth the effort. When we swing through Anchorage, our time is short and our transportation is often limited. Coupled with this is that Gumbo House is wrapped up in some sort of mess with Restaurant.com in which we are not sure who is to blame.

Our Gumbo House odyssey started in July in which we exchanged a restaurant.com certificate for one at the south Anchorage location of Gumbo House. When we pulled up to that location, there was a sign on the door that they were permanently closed. We were surprised by this because there was no indication of this on: A) restaurant.com B) yelp C) Gumbo House's website (yes, I had looked at all three). We did not feel like driving downtown at that time so we planned to try again on this August trip.

Which brings us to the present day. We exchanged the south Anchorage restaurant.com certificate for the downtown Gumbo House location. We had a rental car and drove downtown, parking in the free 2 hour parking south of the park strip, and enjoyed a walk first. Gumbo House is in a real house. We both really like the little old houses in downtown and south addition and appreciate that Gumbo House has kept the house intact. The inside is very cute as well, with creative painting of music notes and Cajun scenes. The host/server allowed us to sit where we wanted and we chose a little room with no one else in it. The environment is probably the only thing we liked about this restaurant.

Our restaurant.com certificate required that we purchase in one sitting, so we had gone planning to get lots of leftovers. We have used restaurant.com certificates in Anchorage at several other places and never had a problem, but since we planned to order leftovers, we decided to show the certificate to the server before we ordered. He immediately said "You've been scammed, we don't accept those." We explained that we bought it blah blah blah and he said that he would get in trouble with his boss if he accepted it. He indicated that this has happened quite a few times with many customers going back some time. Hmm. We asked for a minute to re-group. I would have left at that point, but my husband really wanted to try it. So we scaled back our order and placed it. The food arrived a few minutes later.

The first item out was the caesar salad. While huge, it was underwhelming visually. It was a giant bowl of romaine so pale it looked like iceberg. It was scattered with parmesan and croutons and came with a side cup of their housemade dressing. It was very bland and we uncharacteristically did not finish it. My husband took the leftovers to go, and even more uncharacteristically never ate it.

The second item was a cup of oyster gumbo. This was totally blah. To me it even had an off taste and was pretty icky.

Finally came the calamari po'boy with coleslaw. Po'boys come with a choice of potato salad, fries, or coleslaw. The coleslaw was meh. Some of the cabbage was limp and it lacked flavor. The sandwich was decent. The calamari was very good; the bread was nothing special (not stale but not fresh-tasting). It was vastly improved with the addition of hot sauce. They provided two Louisiana-made hot sauces on the table and we tried them both, preferring the one with habanero in it.

We were antsy for the check. It took us a bit to find the server again, but he gave us a discount of our bill because of the certificate problem. He talked at length about other customers having problems bringing them in and literally not having the money to pay for their food.

When we left, I looked up this restaurant.com issue and it appears that the Better Business Bureau has a lot of problems with their business practices. But I can't help but think that if Gumbo House has had so many problems with them, can't they have done something to get their name off their website? Or put a warning on their website stating, "We do not accept restaurant.com certificates" or something. I can't help but feeling that the owner is leaving this problem to the servers to deal with, which is a bum deal for everyone.

We debated between 2 and 3 stars. The food is awful in my book and ranked about a 1 star. The place is cute, which brings it up a bit. The server gave us a discount, but otherwise we just felt like they don't really have their act together.
Great service and simply amazing! I love New Orleans gumbo and this place definitely lives up to it. Hope to stop by in the future!!!
Order the jambalaya!

We were a little hesitant to order Cajun food this far north, but were happy to find the jambalaya well done and full of flavor! We ordered takeout which was quick and easy. The service was great! We'd definitely come back!
I ordered the kitchen sink gumbo with shrimp and oyster po boy, and was amazing!!! Very hardy and soooo guuuud... Definitely coming back next visit!!!
Ok, I get it. I understand this is Alaska and the prices are generally higher and im ok with that. There are some hits and misses but if the quality is there I would for sure return. This place was easily one of the biggest "finesses" I have seen yet in the city. I paid for a Large cup of "gumbo" and a jalapeno corn muffin. The kitchen sink gumbo was so thin and devoid of flavor on the first bite I instantly regretted my decision to give this place my business. I tasted nothing but water mixed with about 4 pieces of shrimp, some shredded chicken, very thinly sliced andouille sausage and a few oysters. This cup of SOUP was worth no more then 5 bucks. The cornbread muffin was so dry that everytime I took a bite of it, an eighth of the muffin crumbled up into my lap. I couldn't help but feel ashamed/embarassed that I decided to give this place a try. I think the positive reviews come from people not wanting to admit they themselves got fleeced. You should avoid this place at all cost!
I lovee

We were visiting Anchorage and I really needed something reasonably priced and delicious. We came to this place at 3pm and it didn't not disappoint!!

We ordered the kitchen sink gumbo and oyster Po' boy. They were both really awesome! We had 8 pieces of oysters they were fresh and the batter was crispy and not too thick! The gumbo was in the right richness and tasted really great, not too salty not too light!

I wish we can come back more often!
Probably the most expensive gumbo I've ever had. It was decent gumbo but I'll remember to take a loan out before I come next time.
Delicious gumbo. Great spice and plenty of hearty ingredients. Gotta love that kitchen sink gumbo - get me a bucket! Well worth stopping by. Prompt, friendly service - can't ask for anything more! Plus the price is just right, highly recommend - went twice in less than a week!
Worst Gumbo EVER!!!
Watered down roux, over spiced to compensate for being watered down, the rice is sushi rice from at least 2 days ago. This is terrible and breaks my heart. No one should ever experience gumbo that makes them cry in shame and sorrow.
While on vacation in Anchorage, my husband got a cold. We always go for spicy sizzling rice soup or gumbo when we're feeling down so of course the Gumbo House got our vote for where to order from. It was close by and convenient to get to, even through the construction going on around it. Unfortunately, the gumbo was rather bland and overpriced. The corn bread had little flavor as well. The bread pudding was the only thing that made it worth the trip. I give high ratings to the bread putting, but I would not recommend the Gumbo House.
This was such an amazing find. Mom and pop feel and freaking DELICIOUS food. Perfectly seasoned that it takes you somewhere far far away from Alaska staff was so kind and friendly and the bread pudding changed my life.
Get the chicken gumbo!!! It's great! I'm from Houston and travel to Louisiana frequently, so I know good Cajun food :) and this is the real deal! Not to mention it's super affordable for Anchorage prices and fast service.

The owner is also very friendly and pretty much gave me a second bowl of gumbo for free! My favorite part of gumbo is the roux + rice, so I was eating that part first. When I was about 2/3 done with my bowl, he came by and said "my bowl was too dry." Took my bowl and came back with it filled to the brim! Hello leftovers!
came in close to closing. were treated with the same respect as someone not being a douche and coming in late. calamari po boy was awesome, friend got the gumbo and it was superb !
I have been to the SouthSide location multiple times and was eating at the downtown location for the first time. I ordered a bucket sized gumbo to share with the family and that was it. Thirty minutes later no one had checked on us and it was not even busy, I had to go inside to ask about our food which from their reactions they had no idea about. They then brought out the gumbo with no silverware or extra bowls. I again had to go out of the way and ask for spoons and extra bowls. When they returned with the bowls I asked for napkins as there were none and that was never brought. I don't think I will be eating at the gumbo house again...
I really wanted to like this place, being from Fairbanks I waited a long time to try it. I a ordered shrimp gumbo bowl and lemonade. The lemonade tasted fresh but had no sweetness to it.. My food came and the presentation was nice but the food was nasty.. The shrimp wasn't devained, like they didn't try to clean any of them at all.. The rice was crunchy and the gumbo itself tasted burnt.. My friend ordered the bread pudding, that was good but I wouldn't give it another chance. The waitress was very nice though.
This is only my second time here but definitely not my last. Have tried the angel hair pasta with chicken, shrimp and sausage and the chicken gumbo. Both are totally delicious. Had bread pudding the first time, it was great, got it to take home the 2nd time and it was burnt, rather disappointing.