Kaminari Sushi & Hibachi
3260 Highland Rd
Ste 5
Baton Rouge, LA 70802
(225) 383-0999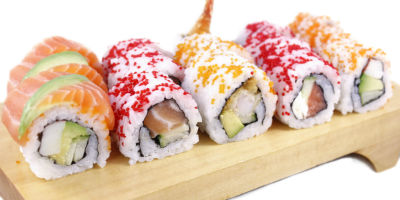 Hours
Mon

11:00 am

-

10:30 pm

Tue

11:00 am

-

10:30 pm

Wed

11:00 am

-

10:30 pm

Thu

11:00 am

-

10:30 pm

Fri

11:00 am

-

10:30 pm

Sat

11:00 am

-

10:30 pm

Sun

11:00 am

-

10:30 pm
Rewievs :
Don't expect a Michelin Star experience here but you CAN expect to eat as much as you want, get hibachi plates made to order and ummmmm...eat as much as you want. As all of my dedicated followers know to be the cardinal rule of buffetism...come when it's busy. If you want to visit when it's not I can only suggest that you don't eat the sushi that's been out there waiting for you.
Went for lunch today. Got take home buffet/hibachi. Their hibachi selections were endless! You could pile on whatever you wanted because it's done by weight. I got one raw sushi to go and one hibachi for my coworker and I to share. I was very pleased! Everyone was so nice and helpful. Even the patrons gave me advice. This was recommended by folks at work and I was not disappointed. I ate until it hurt. Also the prices were shockingly low. Definitely going back soon!!!
It was quite busy at the first restaurant we want to go to, so we started looking into other options in the area. After a quick Yelp search, our group settled on Kaminari, which was a quick walk away. In contrast to our first stop, Kaminari was not crowded at all and we were seated right away. Different options for a variety of tastes for a group. Overall, it was a solid choice for us; however, nothing really stood out. I would try again if I happen to be in Baton Rouge.
Serviceable, but not all that good. Very little sauces/spices available to tailor the taste to your individual preference. I'd rather spend a couple dollars more and go to Nagoya which offers many more options.
The people are very nice however the yaki udon was not great. It just wasn't. Admit what I was craving was yaki soba not udon so that may have something to do with it but t shrimp fet rubbery and there was hardly any vegetables in it.
Screams average. This place is OK, but everything's just average. The sushi is nothing special, and the hibachi is mediocre. There's nothing about this place that makes it stand out. I can understand the college-aged crowd loving it, but that's about it.
I met a friend here for lunch. They offer an Awesome selection of fresh buffet items. Also, there is a Hibachi grill where you can select your desired items and have the 'cook' stir-fry (somehow i do not think that is the correct teminilogy) them and bring the dish to your table. Also, there is a wonderful, extensive selection of freshly-made sushi rolls. I was surprised to see some contemporary, exotic 'fusion' rolls along with the traditional rolls. While the restaurant is not very large, it is not really small either and can accomodating a significant number of people for lunch or dinner.
Overall, my experience was a really good one and I recommend it highly for a quick (or long) lunch.
This place gave me the most severe food poisoning I've ever had! It was the only food I ate all day so I know for sure it was their fault. Avoid at all cost! I believe their raw fish is what made me sick because I went with a friend and that was the only difference in our meals. I've never had a problem eating raw sushi before until this place. DO. NOT. EAT. HERE!
My boyfriend and I eat here fairly regularly. It's nice being able to get an array of sushi and get custom made hibachi for an inexpensive price. It's not the greatest sushi in town but still pretty good. They make right behind the counter and keep the buffet well stocked. It's a nice place for dinner or lunch if you don't mind being around a decent amount of college students.
I got food poisoning from eating here. I guess I should have known better than to eat sushi that had been sitting out for who knows how long. If you go here to eat you are risking being very sick for the entire next day.
This is a really cool restaurant! Relaxed--no implied dress code here--with a large variety of rolls and sashimi, especially for a buffet. My partner and I ate there the other day, and it cost for the whole meal. Reasonable, clean, efficient! If you're close to the LSU campus, check this place out.
can't go wrong here! you get a selection of ingredients and meats that they prepare hibachi style for you. fresh and hot every time! There's also a sushi bar and other gm food selections.
Impeccably clean eatery with buffet style sushi and hibachi.

The variety of items on both the sushi and hibachi bars is commendable. There were over a dozen different rolls available for the lunch buffet. The hibachi featured beef, chicken, tofu, crab, shrimp, rice and noodles, various veggies and egg. There is also a small section of items such as dumplings, egg rolls, and sesame chicken. Everyone can find something.

The staff was very friendly and you can't beat .00 (with tip and tax) for the amount of food you can choose from and eat.

That said, the rolls are very rice-heavy and just o.k. Nothing spectacular. Good for the price though.
Good price considering its all you can eat sushi. Wide variety of sushi choices which my husband and I thought was really good. Had some other things like fried rice, shrimp, General Tso's and a fruit bar. We didnt have any Hibachi but seemed to have all the things you would want.
Sushi quality is fine, taste is adequate. The real selling point is getting to wheel barrow yourself out of there for around .

Is it worth it? I'm not so sure. I'd almost rather pay more for less, and enjoy the flavor. Almost.
Clean buffet and fresh sushi is always rolling out if you go during prime times for lunch and dinner. They have sushi, Americanized Chinese food options, hibachi, ice cream and fruit. Love going here when I feel like I haven't eaten in days. I just wish they served seafood, like snow crab legs lol!
Good hibachi buffet
Sushi is good and fresh
Limited cooked items on bar
Very clean and friendly service
Their sushi selection is pretty delicious, and their hibachi is not that bad either. I always find myself coming back here for some odd reason, but I am always pretty satisfied after.
3 stars because the food is average. The staff is nice and polite. This is a buffet---mainly sushi, 2-3 Chinese offerings, and a hibachi cook---but the food itself is average. The sushi is buffet sushi which means to me a little added rice, a little larger than usual---but they do have a few unique offerings which adds character to this place. The Chinese portion appears to be an afterthought but very pleasant. Hibachi has a lot to offer--shrimp, beef, chicken, sausage, imitation crab meat and 8-10 different type of vegetables but the offerings are okay which requires the hibachi chef to make it special---that's tough. There's also an area for fruit and ice cream. With all that said , this is offered for under incisive of tax for lunch. At times this is appealing to me and others it is not but this is meant to be a positive review
I start off by saying they are very friendly. However the food is just okay and the fried rice is horrid. It is convenient to campus and a good price for the selection, but I won't return.