Nature's Corner Cafe
2480 S Congress Ave
West Palm Beach, FL 33406
(561) 964-5969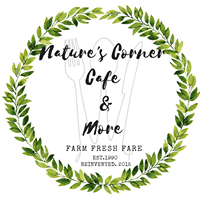 Hours
Mon

8:30 am

-

4:00 pm

Tue

8:30 am

-

4:00 pm

Wed

8:30 am

-

4:00 pm

Thu

8:30 am

-

4:00 pm

Fri

8:30 am

-

4:00 pm

Sat

10:00 am

-

2:00 pm

Sun
Closed
Our Story
For 27 years, our little cafe has garnered a reputation for serving our community with the best soups, salads, sandwiches, Panini's, & smoothies. We're open Monday thru Friday from 8:30 am to 3 pm. Dine in, carry out or call us to have it delivered to the office!
There's always a lot going on at our cafe and we take pride in bringing our community together. In the evenings we will often feature events at the cafe so be sure to check our calendar often for live music or charities happening right in your backyard. In addition, if your planning a special event the cafe can be yours as well! We offer a full catering menu as well as event planning. Samples of our events can be viewed on the catering section of our website.
We look forward to serving you!
Serving Fresh Local Food
5 Star Reviews
"The best gluten-free food! Try the chicken curry too and the desserts. Everything is fresh."
Edy Ortiz
"If you want to get healthy, great tasting food eat here!"
Aaron Jackson
"My best friend recently had her baby shower at Natures Corner. Ginny, the owner was a delight to work with, going above and beyond in the preparation for the shower! Of course the food was fantastic and we couldn't have asked for a more prefect venue!"
Heather Hayes
"My lady friends and I have labeled it the club house. We can always go there and talk and get a great lunch. We really enjoy it."
Kim Moore
"Amazing food. I have never had a bad meal there. I could never fathom the idea of Veggie smoothies until I tried theirs, now I'm hooked. YUM!"
Sue Bertellotti
"Super friendly! They made me a custom juice and a custom quinoa bowl that were pure perfection! Highly recommend!"
Lorena Pineda
"Great food, love the chicken salad wrap, and the homemade soups!! Ginny & Alex are the best, if I lived closer I'd be there every day!! "
Mary Nordmann
"I work for a Real Estate Development on Singer Island called the VistaBlue. We have used Nature's Corner for several catering events including our Christmas Office Party. We have been highly impressed with the unique creations and beautiful details. Our clients are purchasing multi-million dollar homes and during their selections we have food set out from Nature's Corner and they are always delighted with the delicious food. We highly recommend Ginny and her team at the Nature's Corner Cafe!"
Rewievs:
We came here for a late lunch on a Saturday. Not crowded at all and we were greeted immediately; everyone was very friendly. We were told up front that due to catering prep, the menu was limited. It didn't effect anything we ordered. The cafe was clean and I liked the decor: a mixture of country and cute.

My mate got a turkey, ham, & and cheese sandwich and chips. It came with a little side of light macaroni salad. I got a chef salad. Both meals were fresh, well made, and tasted great. The portions were generous.

Highly recommend for a quick, healthy lunch or light dinner.
Nice little sandwich shop includes grilled, wraps and breakfast items. I like fresh stuff with ample veggies involved and these people sure do that. My husband has severe food allergies and he feels well taken care of here. Lots of beverage choices, too. Convenient location and parking. It's a little shopping center, nothing fancy about it. Small place but lots of windows.
Definitely the best place to go for a quick bite. Healthy options along side vegan options, it is one of my favorite places to eat after class!!! Homemade chicken salad is to die for. The quality is amazing, especially for the price you can't get any better than this. Friendly staff, only down side is how hidden this location is!
I travel from Ft.Myers to West Palm Bach several times this year and found this Cafe by accident. It has the most amazing seafood salad and chicken salad sandwiches ever.
August 25, 2017 it was raining and as I turned in to there parking lot I blew a tire (my fault for hitting curb in median). They checked on me to make sure if I was alright and if needed help. Short story Ginny and her staff helped me locate where to get new tire, and concern for me. Did I say how amazing there food and staff are!!! I can't wait to go back for great food and REAL Brewed Iced Tea!

Thanks
We walked in as customers and left as family. They made my friend and I a special salad because we are doing the Daniel fast and could not have been more welcoming! Amazing food, stellar people!
Very welcoming & friendly staff. Cute place & atmosphere! I ordered a curry panini and my husband got the Italian special. Both delicious
I like coming here for a quick lunch in between my college classes. The food is fresh and healthy and they have plenty of options.

It's a nice spot to eat in because it's always quiet so i can do a bit of studying and it's a laid back cafe atmosphere. I like that they have an array of different beads from white to whole wheat and even gluten free. It's not the most delicious culinary experience, but the food is clean and fresh which is very important to me. All of their food gets this little macaroni salad which isnt that great lol.

When i came in the first time the lady was a but short but she did bring my French press coffee (yay for French press) to the table which was nice. I also have had their chunky monkey smoothie/shake and that's pretty yummy too.
Ginny and her staff were very welcoming and accommodating!!! I ordered the Portobello burger and they made it exactly how I wanted...even adding other things I asked for. The only thing I was sad about is that they are not open on the weekends and they close at 3pm on m-f...other than that it was perfect! I will definitely go back again and again!
When I stopped into this place, looking back, I think I got it mixed up with Nature's Way. We weren't too pleased as it wasn't what we were looking for for lunch, but ordered anyway. We got sandwiches on whole grain flatbread and cold pasta which did nothing for our hunger. We couldn't help but just laugh at what the heck we walked into. I think it's joke. If you're looking for a place to sit around for a few hours to read a book and have a very light lunch then yea the place is for you. But if you're looking for a solid lunch it definitely is not. The place is quaint and cute, prices for what you get it absolutely ridiculous and laughable (overpriced) which left us feeling like the whole aesthetic is forced. Not sure what these other reviews are talking about are you kidding me. Go for yourself and you'll see. We laughed at ourselves so much for ending up here. 50 ways to waste your money.
Delicious, fresh food! Wonderful service! Came by for a quick stop after picking up my mother at the airport. Very gluten conscious and vegetarian friendly! The staff is very polite and the food is excellent - there are many different options! Would highly recommend for anyone with a vegan, vegetarian or gluten-free diet.
The food here is always good. I would come here more often HOWEVER

1. The service is very slow. They do not prep much so when you order a salad, they will have to chop the lettuce, cut the cheese, cut the tomatoes. Etc which make a looong wait for a salad or sandwich

2. They are a bit rude. I asked for a to go box, and I was handed a piece of tin foil. Granted my salad was on a styrofoam plate so that didn't make me happy. They wouldn't give me a box for more than half my salad. Really? And to receive attitude?

I don't really go here anymore, I wish they would prep more and be friendlier.
Ok so I went here this place is closed lights are on signs in the window song pepper shakers on the table napkins folded and it's closed. Went back by there second time same scenario it was closed. So I thought 3 times a charm wishing that this was a real nature healthy food place so close to my house. And guess what they were closed This place is closed. :(
We used to order from here often before the change of ownership. We tried them out today again and it was not a pleasant experience. First, their juicer was broken so no juices. Then the smoothies we ordered were tasteless and full of chunky clumps of ice that completely watered it down even more. On top of that , they raised the prices from the .50 to .00 for smoothies and .00 for a sandwich made from sliced bread! Definitely not coming back.
Ginnie and her staff made us feel at home. We absolutely loved the fresh healthy lunch!
We have been ordering lunch here for over ten years and have never been disappointed. Sandwiches are excellent. Their smoothies outstanding. Once during a gas main break due to construction the owner met me in a nearby parking lot with my sandwiches. For friendly service, healthy and fresh food you cannot beat Nature's Corner.
the FORMER owner (as of a couple months ago) has owned this company for over 20 years, her name is Carol and she was Amaaazing, along with her daughters who came in to help her from time to time and they brought their lil wee ones in too for entertainment lol. family owned and MANY knew her family. Carol just sold her business to a friend and things have Changed drastically even thought the New Owner said most things would stay the same, service was terrible, the boy who took my order asked me more than 8 times what I wanted, due to him not paying attention he would forget what I said and ask me again and again. then his father (new owners husband) put all my fruit in a cup along with my half chicken salad sandwich and along comes the boy, dumps out the fruit onto the tray and is picking through it with his bare hands trying to make it look prettier (totally grossed out by watching this as they wear NO gloves) told him to just leave it. they ring me up and its no longer and change its now .07 total for a half sandwich ( less amount of chicken salad than before) and about 10 small pieces of fruit ( which half was bad fruit and had to spit out) w/side of 1/2 c. icecream. I was MORE than disappointed. I went 2 times to give them a chance and both times were bad. this place wont last long especially when you INCREASE in $ and DECREASE in Quantity & Quality! Carol you will be missed by so many who were faithful customers to you for sooo many years. if anyone knows carols last name please message me, I want to get in touch with her, thanks