Nature's Corner Cafe
2480 S Congress Ave
West Palm Beach, FL 33406
(561) 964-5969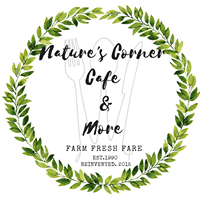 Hours
Mon

8:30 am

-

4:00 pm

Tue

8:30 am

-

4:00 pm

Wed

8:30 am

-

4:00 pm

Thu

8:30 am

-

4:00 pm

Fri

8:30 am

-

4:00 pm

Sat

10:00 am

-

2:00 pm

Sun
Closed
Our Story
For 27 years, our little cafe has garnered a reputation for serving our community with the best soups, salads, sandwiches, Panini's, & smoothies. We're open Monday thru Friday from 8:30 am to 3 pm. Dine in, carry out or call us to have it delivered to the office!
There's always a lot going on at our cafe and we take pride in bringing our community together. In the evenings we will often feature events at the cafe so be sure to check our calendar often for live music or charities happening right in your backyard. In addition, if your planning a special event the cafe can be yours as well! We offer a full catering menu as well as event planning. Samples of our events can be viewed on the catering section of our website.
We look forward to serving you!
Serving Fresh Local Food
5 Star Reviews
"The best gluten-free food! Try the chicken curry too and the desserts. Everything is fresh."
Edy Ortiz
"If you want to get healthy, great tasting food eat here!"
Aaron Jackson
"My best friend recently had her baby shower at Natures Corner. Ginny, the owner was a delight to work with, going above and beyond in the preparation for the shower! Of course the food was fantastic and we couldn't have asked for a more prefect venue!"
Heather Hayes
"My lady friends and I have labeled it the club house. We can always go there and talk and get a great lunch. We really enjoy it."
Kim Moore
"Amazing food. I have never had a bad meal there. I could never fathom the idea of Veggie smoothies until I tried theirs, now I'm hooked. YUM!"
Sue Bertellotti
"Super friendly! They made me a custom juice and a custom quinoa bowl that were pure perfection! Highly recommend!"
Lorena Pineda
"Great food, love the chicken salad wrap, and the homemade soups!! Ginny & Alex are the best, if I lived closer I'd be there every day!! "
Mary Nordmann
"I work for a Real Estate Development on Singer Island called the VistaBlue. We have used Nature's Corner for several catering events including our Christmas Office Party. We have been highly impressed with the unique creations and beautiful details. Our clients are purchasing multi-million dollar homes and during their selections we have food set out from Nature's Corner and they are always delighted with the delicious food. We highly recommend Ginny and her team at the Nature's Corner Cafe!"