Menu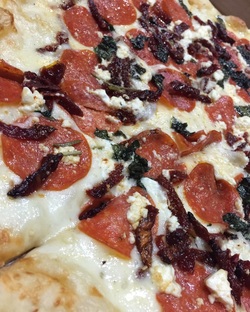 Antipasti
Garlic Bread
3.50
Garlic Bread Mozzarella
6.95
Sausage & Peppers (2)
7.95
​
Homemade Meatballs (2)
7.95
Fried Shoestring Potatoes
4.95
Bruschetta
7.95
Feta, Roma tomatoes, seasoning, olive oil, garlic
Calamari Fritti
(tubes & tentacles) 13.95
Mozzarella Marinara
9.95
Mozzarella cheese wedges breaded & fried
Vegetables
-Zucchini & Mushrooms 9.95
Breaded, fried & served w/ Ranch dressing
-Steamed broccoli, carrots and 7.95
cauliflower
Sautéed Yellow Squash
6.95
Sautéed Mushrooms
7.95
Arincini (4)
(Risotto Balls) 7.95
Insalate
All specialty salads come with a homemade roll
Caesar Salad Small
5.50
Large
8.50

​Chicken Caesar Small
9.50
Large
13.50
Siciliana Salad Small
6.50
Large
9.50
Tomatoes, cucumber, red onions, & vinaigrette
Antipasto Small
9.50
Large
13.95
Pepperoni, salami, mortadella, provolone cheese,
mushrooms, black olives, tomatoes, pepperoncini
on a bed of mixed greens with a house vinaigrette.
Greek Salad
11.95
Romaine, cucumbers, tomatoes, red onions,
olives, feta cheese & a creamy house vinaigrette
Spring Salad
11.95
Mixed greens, feta cheese, walnuts, tomatoes,
& raspberry dressing.
Spinach Salad
11.95
Spinach, feta, candied pecans, dried cranberries,
red onion & balsamic vinaigrette
Caprese Salad
11.95
Roma tomatoes, mozzarella, basil, balsamic reduction
One Trip Salad Bar
6.95
Soup of the Day (Cup)
6.95
Soup & Salad Bar

All You Can Eat
13.95
Pizzas
Our pizzas are thin-style
*
, handmade with the finest mozzarella
cheese,
a specially prepared tomato sauce, & fresh ingredients
Small Med Large Cheese
13 15 17
Each extra topping add:
1.95 2.50 2.95
Veggies Meats
Sun-dried Tomato
Canadian Bacon
Pepperoncini/Jalepeno
Pepperoni
Black or Green Olive
Sausage
Roasted Bell Pepper
Salami
Fresh Garlic
Chicken
Red or White Onion
Ham
Artichoke Hearts
Turkey
Fresh Tomato Meatball
Mushroom
Pineapple
ADD A SALAD BAR FOR .95 PER PERSON!
(Limit 4)
Specialty Pizzas**
Small Med Large
Handlebar
15.45 18.45 21.45
Pepperoni, sausage, mushroom, onion
Combination
17.95 20.95 23.95
Pepperoni, sausage, mushroom, onion,
black olive, & roasted bell peppers
Gourmet Pizzas **
Small Med LargeMargherita
12.95 14.95 16.95
Roma tomatoes, oregano, basil
(Fresh Garlic and Olive Oil Base)
Pizza Al Pomodori Secchi
12.95 14.95 16.95
Sun-dried tomatoes, basil, feta
(Fresh Garlic and Olive Oil Base)
BBQ Pollo
14.95 16.95 18.95
Chicken tenders, BBQ sauce, cilantro, red onion
**THERE IS AN ADDITIONAL CHARGE FOR SUBSTITUTIONS ON THESE PIZZAS.
Kid's Menu
10 Years & Under .95
Includes beverage w/free refill
and Homemade Roll
Choice of:
Spaghetti
(Bolognese or Marinara)
& Roll
Lasagna & RollCurly Noodles & Roll
(Choice of sauce)
Mini Cheese Pizza
(add .50 per topping)
Chicken Tenders
(Grilled/Breaded) -Serve with fried shoestring potatoes

Dinner

Pastas
Includes homemade roll &

your

choice

of:
1 Trip Salad Bar, Caesar Salad, Siciliana Salad or Cup of Soup
Lasagna
19.95
Spaghetti Bolognese or Marinara
16.50
With 1 Meatball 19.99
Beef Raviolis
19.50
Spinach Raviolis*
19.50
7 Cheese Tortellini*
19.50
Chicken & Proscuitto* Stuffed Tortellini
19.50
Capellini Pomodori
19.50
Fresh roma tomato & basil sauce over angel hair
Cannelloni
20.25
Homemade crepes stuffed w/beef & chicken,
topped with meat sauce and mozzarella
Manicotti
18.99
Homemade crepes stuffed with ricotta
& fresh herbs, topped with marinara sauce
Chicken Penne Pesto
23.95
Chicken tenders, creamy pesto over penne pasta
Pollo Alfredo
23.95
Chicken & sun-dried tomatoes tossed
in a creamy sauce over fettuccine
Chicken Penne Chipotle
23.95
W/Sun-dried tomatoes, olive oil, olives,
chipotle, fresh garlic, feta, over penne
Penne Mediterranean
23.95
(Choice of Sausage, Chicken

or

Tiger Shrimp)
W/ Feta, sun-dried tomatoes, fresh garlic,
olive oil, roasted bell peppers, over penne
Tiger Shrimp or Chicken Diablo
24.95
Sautéed in garlic, olive oil, sherry wine,
onions, roasted bell peppers & marinara sauce,
served over a bed of linguine
Linguine con Vongole
23.95
W/Clams, butter, parsley, fresh lemon juice,
& garlic served with a white or red sauce
Linguine al Scampi
24.95
Tiger shrimp sautéed in butter, wine, parsley & garlic
*Your choice of sauce:Bolognese, Marinara, Alfredo, Creamy Sweet Pesto or Pink
Add Sausage to any dish…5.95Add Chicken to any dish…6.95Add Tiger Shrimp to any dish…8.95 Specialties Della Casa** Pork Chops
26.95

Center cut pork chops seasoned with garlic,
spices, and cooked to perfection!
Larry's Special
Pepper Chicken
24.95
Half chicken, seasoned, twice baked
& served
in it's own natural sauce
Swiss Breasts of Chicken
24.95
Cutlets breaded, seasoned, fried, then baked w/
Swiss cheese, avocado, tomato & a creamy sauce
​
Breast of Chicken Parmigiana
24.95
Cutlets breaded, seasoned & fried, topped
with marinara sauce & mozzarella cheese
Calamari Venesia
24.95
Breaded squid steak sautéed in a butter, lemon,
garlic & wine sauce . . . . . The Best in Town!
Baked Salmon
24.95
Served w/basil butter & sautéed squash
Eggplant Parmigiana
18.50
Prepared parmigiana style, topped
with marinara sauce & mozzarella cheese
**Served with a side of pasta w/your choice of sauce Lunch Specialties Della Casa
Includes homemade roll & your choice of:
1 Trip Salad Bar, Small Caesar Salad,
Small Siciliana Salad or Cup of Soup
Lasagna
10.95
Spaghetti Bolognese or Marinara
9.50
Chicken & Prosciutto Ham Tortellini*
12.95
Spinach Ravioli*
12.95
Beef Ravioli
12.95
Capellini Pomodori
10.50
Angel hair pasta in a fresh roma tomato & basil sauce
Cannelloni
10.95
Thin crepes stuffed w/beef & chicken and
smothered with our homemade meat sauce
Manicotti
9.95
Thin crepes stuffed w/ricotta & fresh herbs and
smothered with our homemade marinara sauce
Tiger Shrimp or Chicken Diablo
15.55
W/onions, sherry wine, marinara sauce,
red pepper & roasted bell peppers over linguine
Pollo Alfredo
15.55
Chicken tenders & sun-dried tomatoes tossed
in a creamy sauce over fettuccine
Chicken Penne Pesto
15.55
Chicken tenders & creamy pesto over penned pasta
Chicken Penne Chipotle
15.55
Chicken tenders, sun-dried tomatoes, olive oil,
olives, chipotle, fresh garlic, feta, over penne
Penne Mediterranean
15.55
(
Choice of Sausage, Chicken or Shrimp)
W/feta, sun-dried tomatoes, fresh garlic, olive oil,
& roasted bell peppers served over penne
Chicken Parmigiana
15.55
Lightly breaded & seasoned chicken breast, fried,
& baked w/marinara sauce, mozzarella
Eggplant Parmigiana
11.95
Breaded & seasoned, fried, baked with marinara sauce
& topped with mozzarella
*Choice of sauce: Alfredo, Bolognese, Creamy Sweet Pesto, Marinara or Pink
Add Sausage to any dish…5.95
Add Chicken to any dish..…6.95
Add Tiger Shrimp to any dish…8.95
Sandwich Board
Sandwiches served on our homemade torpedo rolls
Add a One Trip Salad Bar for only .95
Ham OR Turkey & Cheese Stack
8.95
Thinly sliced ham
OR
turkey & provolone
cheese, garnished w/lettuce & tomato
Turkey Breast Supreme
9.95
Thinly sliced turkey, Canadian bacon,
alfalfa sprouts, provolone cheese
Turkey Croissant
9.95
Thinly sliced turkey, provolone cheese,
avocado & alfalfa sprouts
Torpedo
10.50
Salami, mortadella, ham, provolone cheese,
& our house dressing
Hot Pastrami & Provolone Cheese
8.95
Homemade Meatball
9.50
Topped w/meat sauce & Parmesan
Sausage & Roasted Peppers
9.50
Topped w/meat sauce & Parmesan
Chicken Parmigiana
10.50
Chicken cutlets breaded, fried & topped
with meat sauce, & mozzarella cheese
Working Person Special
.95
Choice of Soup or Salad
+
½

Sandwich
With your choice of One of the following:
Hot Pastrami, Meatballs, Sausage,
Breast of Turkey, Canadian bacon
or
Ham
Add 95
¢ for C
heese, Avocado or Roasted Bell Peppers
Or
2 Slices of Pizza
(W/ One Topping*)

*Add 95¢ per additional topping
(See "Create Your Own" for topping choices)