Pho Hut & Grill
5252 Balboa Ave
Ste 101B
San Diego, CA 92117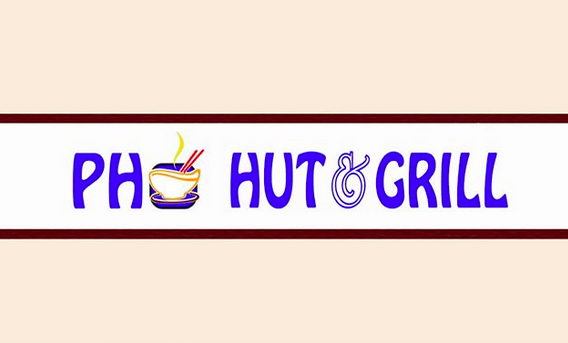 Hours
Mon

10:00 am

-

9:00 pm

Tue

10:00 am

-

9:00 pm

Wed

10:00 am

-

9:00 pm

Thu

10:00 am

-

9:00 pm

Fri

10:00 am

-

9:00 pm

Sat

10:00 am

-

9:00 pm

Sun

10:00 am

-

9:00 pm
SIMPLY
DELICIOUS
HOME STYLE COOKING
---
COME DINE RAIN OR SHINE
____________________
---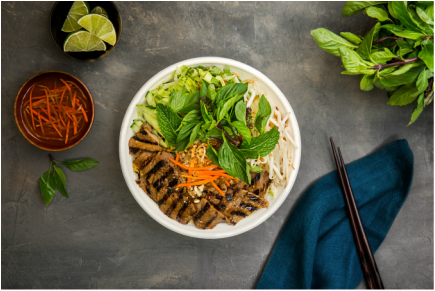 HOT OUTSIDE?
Cool down from the heat with a Bún thịt nướng noodle bowl or a refreshing Vietnamese salads .
---
---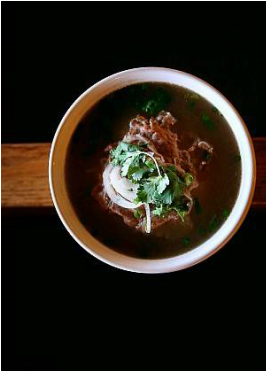 CHILLY AFTERNOON?
Come warm up with a hot bowl of
noodle on a cold winter day.
---
---
---
---
WHY WE DO IT... We are a team of brother and sister. Our interest in traditional cooking dates back to our time of growing up, as children, eating quality meals prepared with love from our mother's kitchen.

Now as adults, we are still enjoying mom's cooking in addition the meals that come directly from our own,

Phở

Hut kitchen.

The

great sense of care for the food we serve

is our way of saying thanks to mother for all those years of raising us on delicious healthy dishes.
Rewievs:
Reminds me of Vietnam

I always get the cold vermicelli noodle combination plate (N5). They add more chicken because I don't like shrimp, very nice people

And they never skimp on the plates, always enough food
5/6/19 update. There seems to have been a mgt/staff changes. I will tell you they are no longer equipped and staffed to handle large parties say more than 6. We went in with 10 and 2 of our party never got served and they finally left. Our group has been going there on Monday's for years. Over time service and food coming out of the kitchen has become less and less organized.

My tip - party of two or less you're good to go. Larger parties expect a dribble of food and the frustration that goes with it.
********************************
I was not a big Pho person. This place has changed my perspective.

Family owned the attention is perfect. The food is fresh- my favorite is the P4 chicken Pho with the calamari. The dipping sauce is fanatic with just the right amount of bit.

I will give this my highest recommendation in that its on my regular rotation of lunch places.
Great service, fast and quick, and yummy!
The filet mignon pho didn't disappoint, very succulent meat and broth was very rich. 8/10

Pork and shrimp spring rolls were very refreshing. Great to get as a palate cleanser or appetizer. 8/10

Portion size was a bit okay, but the food didn't disappoint!
And no wait at all! Wow!
Hello!

Came here on a Friday evening with my professional food partner. I ordered the bun thit nuong (Cold Rice Noodles with Grilled Pork) and it was pretty tasty. There's a very friendly amount of vegetables (yay fiber) along with a hearty portion of grilled pork. The pork itself was cooked to order, sweet and savory with some smokiness from the grill. I would recommend this dish to anyone here. My food partner ordered Phnom Penh. I personally felt like that dish hit the spot as it was a pretty cold day and the soup was really hot. It's not like pho or chicken pho; the broth to me tasted lighter then a pho broth (no star anaiss etc) but was super clean and yummy.

Note: They took forever to take our order and to get the food out. We were the only ones pretty much there and it took them 10+ minutes for the food to come out? They do have a big to-go ordering group. I'm not really use to pho places taking forever for their food to come out. Yes, this judgment was made when I was pretty hungry though. haha
Food: 4/5
- Mango Salad-- very refreshing, highly recommended
- Clay Pot Rice Combo-- flavorful and fulfilling
- Chow Fun Noodles-- lack in flavor
The pho was really really good. The spring rolls were the best I've had anywhere. Lemonade also fantastic.
We came in just before they closed and the food was fairly quick to come out. Service was fairly good, the table and the floors were super sticky though.
One of the best Vietnamese restaurants in San Diego! Every order is cooked from scratch to order, so always a fresh and hot plate is delivered! The pricing is great, my wife and I have a complete meal with appetizer for under ! The service is second to none, we've eaten here dozens of times over the past several years and only one time was there a mistake on our order (to-go), and it was fixed quickly and with much apology and regret. The dining area is a little small and cozy so dont expect to have much private conversation while dining in but the ambiance is great!
Service was okay, food portions are below average for the price. But most importantly, the pho broth had absolutely no flavor! Me and my friend ordered the P1 and we both agreed the flavor gets 1/5 stars. Also, we had the egg rolls which were accompanied by some luscious romaine lettuce leaves but upon closer inspection on one of them, it had a tiny fly on one side and some specs of dirt on the other. But the egg rolls themselves were good. My first visit I had the vermicelli noodles. The shrimp was dry, the meat was dry and the fish sauce that accompanies it wasn't enough to coat all my noodles.
We wanted to find a place that had pho as well as baguettes that had pâté. Usually you find pho and baguettes with grilled pork, grilled beef or chicken, but never pâté. Anyways, parking is easy, dining room is clean, restroom is clean and the pricing is good. On average, a small bowl of pho is and a large is .

Definitely a place to try.
I was just recently here for lunch. I have always passes by it and never went in and tried. I am so happy I decided to give it a shot! The staff was VERY attentive. I had the fresh coconut and veggie pho with beef broth. I've had plenty bowls of pho and this one is definitely up there !
Thank you for you attentive service and good food on a cold day
Honestly was hoping for more. I am vegetarian and ordered the Vegetarian Pho along with some tofu Vegetarian egg rolls. The pho got worse with every bite. Flavorless (missing salt) soup. The veggies were pretty good, but not great. The egg rolls were the most edible of the two dishes. However the texture was mushy inside and the dipping sauce reminded me of maple syrup. I should have known by the aroma when I walked in that this was a no go for my birthday dinner, but I kept at it. I won't make that mistake again.
One thing that I found funny is that the staff seemed pretty indecisive about the music since they would skip mid-song (though they played BTS Idol twice in a row.....which I did not mind at all eheheh).

Oh right, about the food.....their pho broth is on the bland side compared to the ones at pho places on convoy, though I guess it can be suitable for those who don't want the pho broth to be heavy. I've ordered their vermicelli bowls in the past and their portion sizes for those are pretty big; I approve!

Parking is easy peasy; the place shares the parking lot with the nearby Rite Aid, and as I occasionally go to this Rite Aid to pick up medication, I rarely see the parking lot full.

The place is a cute little place; it has a local neighborhood feel to it. With that being said, it may be difficult to be seated if you have like an 8+ person party.

Basically, this place is decent if you have a craving for pho or other Vietnamese dishes, but you don't want to deal with the craziness of convoy.
Updating my previous review because of a really rough experience dining in. It was simply too busy that night and not enough servers in the kitchen was slow. Bad combination.

This place has great food and I will continue to order takeout food from here because they are really efficient at that. They do it well. Food is always tasty
They say they're open till 9pm, but if you show up at 8:40pm they will only serve you if it's a to go order. Even though the food is good, the customer service lacks severely especially if they are busy. Don't waste your time on a restaurant that fails to see the value of there loyal customer base.
This place is delicious. I like the shaken beef plate-has veggies and is a type of sir-fry. The flavors are delicious and subtle. The beef is cooked perfectly and melts in your mouth with every chew. This
Dish pairs well with hot Jasmin tea.
The staff there are great to me and don't feel like I don't exist going to some of these places at times. They always check on me too while I'm eating which is a big plus in my book.

Yet, the food is great too, normally I have the P4 large with chicken or N4 large with just rice noodles. The broth is perfect and not to salty and the food seems very fresh. Great atmosphere, I'd recommend this place to anyone who like to eat healthy.
This is the first time eating here. I only live blocks away and always pass by coming and going. So tonight my family and I decided to try this place out for the first time.

We showed up about an hour before closing. The waiter clean off a table and seated us. We were given our menus and after going thru it quickly picked our food.

Unfortunately there was no waiter to take our order, instead he was taking the order of a group of people that came in after us. We had been waiting about 10 minutes. Finally, we had to flag someone down to give our order.

It's rather disappointing to watch people who came in after us have their orders taken before us. Not a good start for us and not real good customer service either considering this is our first time.

We ordered two appetizers, tempura shrimp and chicken wings tossed in butter. The tempura shrimp were very good. The chicken wings tossed with butter came out hot and very good.

For the entree my wife ordered Korean BBQ Ribs, I ordered the Stir Fry with Crispy Egg Noddles and my son ordered the Curry Chicken. My wife's and son's food came out rather quickly, alas I had to ask were my food was. In the end all of our entrees were pretty good.

I will be honest. We liked the food. It was pretty good, Although my wife's ribs were a bit tough. Not sure if they are supposed to be that way or not. But other wise there were things on the menu we all would like to try. But I don't think we will ever go back. To us service is everything. If you don't make us feel wanted then we don't want to eat there. I'll admit they started off with a big strike by simply serving people who came after us. It's a hard up hill climb after that. We had to flag someone down to refill drinks. And no one came by to ask if we needed anything. Service, service, service. It's a shame they lost potential comeback customers with the poor service.

I can't in good conscience recommend this place simply because my experience was not great. Even if the food was good.
My boyfriend and I love it here. The service is always amazing. The staff is super friendly and very attentive. They are all always able to seat us right away even when they are busy. There are always taste amazing and it never disappoints. The small size 5 is more than enough to eat in one sitting but if you want leftovers definitely get a large size. They always serve it with fresh basil, beans sprouts, jalapeños and limes. Their egg rolls And Vietnamese iced coffee are also very tasty as well.

The restaurant is also very clean and has a nice friendly, vibe to it as well.
Delicious pho and excellent service. I've been here twice now and they do a great job with the veggie pho, but i would like to point out and appreciate that they had very little single use items (i.e. no disposable straws, chopsticks, etc.) and it improved the quality of the experience and struck me as very eco-friendly.
Wonderful place! Was driving by and I'm so glad I stopped here. Food is delicious, restaurant is super clean, nice decor, staff is very friendly, and the service is lighting fast. Highly recommend!!