Tapps Sports Grill
6750 Georgia 53
Braselton, GA 30517
(706) 684-0667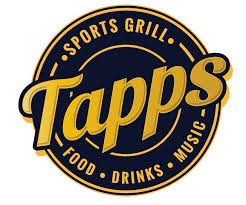 Hours
Mon

11:00 am

-

10:00 pm

Tue

11:00 am

-

11:00 pm

Wed

11:00 am

-

11:00 pm

Thu

11:00 am

-

11:00 pm

Fri

11:00 am

-

12:00 am

Sat

11:00 am

-

12:00 am

Sun

11:00 am

-

10:00 pm
About Us

---
Our Restaurant
Tapps Sports Grill is dedicated to providing the premier fan, food and sports experience for residents and visitors of Northeast Georgia, with a commitment to hospitality, quality, and the community. The secret language among Northeast Georgian's is our deep passion for both food and sport.
Special Events
When planning your event Tapps Lounge is the perfect location for your hosting needs. The Lounge offers a luxury experience with control of the TV's and music and your own private bathrooms; with a personal maître d' and a special Lounge menu all you need to do is come and enjoy. Call or Email us to reserve The Lounge for your party!
Seasonal and Local Beers
Our bar offers one of the best beer assortments in town. With 16 Tapps, we offer a variety of local and seasonal drafts; including Left Nut Brewing Company, Scofflaw and Jekyll just to name a few. Our local bottle craft beer assortment is perfect for tasting something new.
Reviews:
Apparently Tapps is now under new ownership and has been denied an alcohol permit. They have also changed their hours. So go for dinner if you want to try their new menu but don't expect to have a beer with your dinner.
Excellent lunch. They have daily В specials, so I tried the Taco Tuesday special. В Two tacos plus a side for .50. I mixed it up with one chicken and one beef with В a side of cheese grits. Delish!! I preferred the chicken taco over the beef, В but both were very, very good. The cheese grits were smooth and creamy, В perfect. Everything is made fresh, in-house. I was excited they had Scofflaw beer on tap. Service was prompt and friendly. I would gladly return here.
Service was ok. The server just up and left without us even finishing the order. The peach moon beer I ordered was warm and not cold at all. Cherry limeade was pretty good though. The burger itself is also pretty good, but my fries were soggy with 0 seasoning. The buffalo sauce is only texas pete. Fried pickles were soggy and Mac and cheese bites were bland and very underwhelming. We originally wanted the loaded mashed potato bites but even the server herself said they aren't worth getting because there were so many customer complaints on it. We also came when it was steady, not busy or slow. This place is ok, just not great.
my favorite lunch get away
great service food and workers
Food is always В seasoned and cook perfectly
Went out tonight, В had wings, fries and cold beer with my friend Allan Bredig. В Good time. В Tapps here in Braselton, В good food and believe me, В if you have a problem, В don't hesitate to complain, В they will immediately make it right. В Good job Katie. В Best waitress ever, almost like ESP, she just stopped and said what's wrong, В smiled and made it awesome. (The fries were just warm, В not hot) В had to blow on the next (damn the torpedoes fast) batch, В way hot. В Lol
Fantastic food and exceptional service. The blackened fish tacos were amazing along with the grilled asparagus. The kids loved the Mac and cheese bites. Will definitely eat coming back for again!!
1 Star is honestly all this business earned. This is on the corner where at least five businesses have been in the past 4 years. This one is kind of a play on the last one that was here with a very similar name. It is set up like a sports bar, but with a small variety of food.

Husband and I arrived for dinner around 7pm on a Thursday. The hostess had to take our drink order after about 5 minutes sitting there not greeted. We sat in one of the booths in the bar.

The bartender had 2 people sitting together and enough time to straighten all of the bar seats and do a dance for the 2 men. Although, not enough time to ask our server with 3 tables if she could help.

Once our server finally greeted us she gave excuse #1) 'sorry, I was told it was another table'. BS, because she had one section, and even if you were told wrong, as a server (I've been one) you keep an eye on your section.

We ordered as soon as she arrived and then waited 30 minutes for our food to arrive. I wish I were exaggerating. In those 30 minutes she came by to ask if 'we were good' while our drinks were about half full. Then again she came by(our drinks were empty at this point) and asked 'still good?'. I asked if we could have refills, I specifically said what they were since she did not take the drink order.

Once she brought the food, neither of our plates were 100% correct. Hubby asked for the Shrimp Tacos, but no slaw with lettuce instead. The shrimp tacos came out without slaw, but no lettuce. She did not ask him what he wanted for a side, but he received fries and that's what he would have ordered. I asked him how it tasted and 'it wasnt as good as last time'. But also stated he may have just been so mad. My plate was interesting. I ordered the California Chicken Club with fries. The sandwich was there (buried beneath shredded lettuce which hubby stole some for his tacos) but I received grilled asparagus as a side.

I immediately brought up the error and she said 'oh, yeah I thought that's what you ordered'. Then 'the buttons on the computer are messing up'. What?!?! Again, don't you check the order before running it out? 8 minutes later I received my fries.

We received no apologies for the errors, only excuses. And the fries I had to ask for WERE ON THE BILL! We just paid and left.

GET YOUR ACT TOGETHER
Just wanted to give this place a big ZERO. We came on a Tuesday night. Our server was great. She checked on us multiple times and I'm sure she doesn't make the "executive" decisions to close the restaurant earlier than posted. First off, we arrived around 9. We ordered so much food and so many drinks! Around 9:15 the appetizers came out and then around 9:30 the entrees came out. When we received the wings, it looked like someone had eaten half of it and then threw it back into the fryer. See the pictures attached. When our server arrived with our food at 9:30 she told us that the kitchen would be closing in 5 minutes and they're shutting the place down at 10, but the posted time for closing is 11. When we asked her why they would close so early, she told us that it was because it was "too slow". Why would you let people order the amount of food and alcohol we ordered if you knew you would be closing soon? My sister and I ordered the 40oz Fish Bowl. It came in a pitcher that was t 40oz and the excuse as to why it came that way was "we ran out of fish bowls", but that's crazy because there were only 6 other people in the place. Anyway, we talked to a manager about the wings and the that we had paid for in the music box. She told us that she'd work on getting us more wings and that there was nothing she can do about the music. So, we stayed to use up all of our music coins and we could feel them rushing us out. About 5 minutes after we got the wings that were made up for the wimpy wings, they asked if we needed to go boxes. We really tested the venue out to see if we would rent it for a big wedding after party. Probably not going to waste our time here anymore. If they can't take care of customers on slow days, I can't imagine what it's like to host a big event here:
This place was a disappointment. Arrived around 8pm on a Saturday night. It took several minutes for us to be greeted. The bartender had to be our server, because the only other server working was actually a line cook they just threw out there to take orders.

Appetizer (Home Run Fries) took way too long and came out cold. You could tell they would have been really good fresh, but they tasted like they sat in the window way too long. We waited almost 45 min for our food. When it arrived, 2 burgers and wings. Once again food had potential, but was cold. Burgers came on Texas toast, when it was suppose to be on a Kaiser roll.

Bartender only came to the table three or four times. Water were empty most of the meal. When the other "server" lady final came by we finally were able to express our concerns. The gave all kind of excuses. No real servers on duty, only been open since February, ran out of buns etc. I told them that they need to be up front with customers instead of letting them just sit there in the dark.

May give it another shot, manager was apologetic, and took 30% off the bill. The food was tasty, while served cold. It's got potential, but it's a long way from satisfactory.
We'd heard positive things about Tapps but unfortunately, none of them applied to our lunch experience there. A Saturday afternoon lunchtime and their dining room front doors were locked and nobody was inside (dark and looked closed), but nope, entered through the bar entrance into a cold, clinical, concrete, and above all else, quiet building. Eerily quiet.

Our server was nice and attentive, but our food (for being one of maybe 2 tables dining) took quite awhile to arrive. for two adults, a toddler and a child was ridiculous. Husband's turkey/bacon pita shouldn't have had "bacon" listed in the title - what was there of it was little red squiggles in the bottom. My garden salad had neither the listed "mixed greens" (it was just romaine) nor grape tomatoes (3 sad slices of regular tomato.) The tastiest thing was the kid's chicken fingers. If you want basic bar grub, I would say one exit sound Houndstooth or Jeffreys is a better choice, if not for the menu variety and prices, but for the liveliness. The tomb-like quality of Tapps was just too weird.
Would give five stars based on beer selection alone, but sat at the tables one evening and NEVER saw a server. Manager brought us my drink and thirty minutes we could not get a single person to cash us out so we just left money on the table.

For the best service, sit at the bar.
I really wanted to like this place. A coworker told me about it and told me I'd love it. Unfortunately that wasn't the case :-(

The bar area was full and so they sat us in the main dining area where we would be the only ones. Our waiter was very cool and attentive. I was disappointed by their drink selection. Nothing really to catch our eyes. And everything pretty expensive. We had 2 beers and my mom had to return her wine as it tasted old, without flavor.

We had: Philly cheesesteak, shrimp poboy, monster burger and Greek burger. The two burgers were good. The monster burger has the fried egg but they over cooked the egg so the yolk didn't pop. The Greek burger was interesting, I like the tzatziki sauce. The phillycheesesteak and shrimp poboy weren't bad but we felt it wasn't enough. It was a lot of bread... В All 4 entrees were served with fries and the fries were pretty good.
This place has a great vibe! It's perfect for a late night hangout or to watch the game! They will make you feel like family!!!!
Had another great meal at Tapps last night. I had tge Tex Mex burger, love the guacamole and salsa. Husband had the wings, tasty snd meaty. Our server was friendly, quick and attentive. We've been going to Tapps for a year and a half since we moved here, never had a meal thst wasn't good!
DONT EXPECT GOOD SERVICE OR COMPETENT SERVERS ON A SATURDAY NITE!! В If there were "zero" stars, you'd have gotten it. В We went in after 9pm, literally 3 tables of customers and 3 servers. В It took 3 separate requests over 15 minutes to get a single beer. В NEXT - NO APPETIZER SHOWS UP! В My husband is a vegetarian of 32 years who is literally allergic to meat now. В We stressed this point when he ordered a grilled cheese with NO BACON.. We get it, he takes a bite of it...BACON!! В Come on, Tapps - are you trying to kill somebody here? В We repeated the request 3 times when we placed the order. В Obviously there was no manager there, or not one who cared. В Another server tried to bribe us with a "beer"...NOPE - LITTLE compensation if he'd have taken a couple more bites and ended up in the ER. В We aren't new customers, В but their service goes downhill with each visit! В THIS WAS OUR LAST VISIT!!!
The bartenders are great and even have Live entertainment! Some nights they have poker nights and have great size Tvs to watch the games! The vibe is great and everyone is friendly there. The ONLY reason I give them four stars is because their food isn't the best but you shouldn't expect much because it is mainly a bar (they have a lot of tables for sitting down to eat) and serve a lot of good bar foods. I've had really great mozzarella sticks but the next time they were still doughy. They had to recook them but the next batch was cooked and good.
Went to Tapps for a quick lunch on a Saturday.They weren't busy at all and we waited for 40 minutes for food before we left. It was clear that the server/hostess was not interested in our business. The bathrooms were disgusting and smelled of sewage. Whatever restaurant has occupied this space has always struggled, no wonder why!
Went there on Saturday July 29, 2017 and there was some God awful band making more noise than one could allow. After barely being able order from the server we decided to leave and go to Houndstooth Grill a bit more quiet... I guess the folks there at noon like hearing banging drums, Not me...
Closes at midnight minutes my foot. We were kicked out at 11:40 "because there was no one there". We were there, and we are there very often. Absolutely ridiculous. Guess we will have to go to places we can trust the time stated that they close.